A young woman's quest for true love in Baghdad
The eldest daughter of the Methboub family, which the Monitor has profiled since 2002, maintains her conviction that true love is possible in a society of violence and fixed marriages – despite her own bumpy road.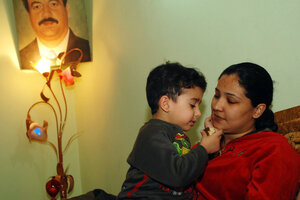 Scott Peterson / Getty Images
For a long time, Fatima wouldn't talk about the state of her heart; about the marriage that had gone sour – about the challenges of finding true love in Baghdad.
For years, the young Iraqi woman had aspired to romance. And she found it, with a boy-next-door love story that seemed to defy the odds for a poor family in bomb-rattled Baghdad. But that inspiring start has only made the two-year separation from former sweetheart and husband Bashar especially difficult, and the thought of divorce even worse.
"Only God knows if the end of this story is good or bad," says Fatima, wistfully playing with waist-length hair in her mother's apartment, beside a kerosene floor heater one recent winter's eve.
Then out of nowhere, laughter: "They are waiting in line, 100 other men!" Fatima claims, resolutely pulling her hair back with a flash of pre-marriage flirtatiousness.
Fatima's tribulations have rocked the family of matriarch Karima Selman Methboub, a widow with eight children whose saga before and after the fall of Saddam Hussein the Monitor has followed since 2002. From the daily grind of making ends meet to navigating the lethal hazards of life in the new Iraq, this family is emblematic of the resilience of all Iraqis.
Fatima's journey
Among the most coquettish of the daughters, Fatima was the oldest girl. And so, after her father was killed in a car crash, she was taken out of school at the age of 12 to help her mother raise the children.
As Fatima shares her emotional journey, the darkening room seems to encroach again. Only a single sister is in attendance.
---