Rebels claim key Libyan city after assault from Qaddafi forces
While Qaddafi's forces attacked Ajdabiya, a key crossroads in the battle for control in eastern Libya, a rebel leader said today the city remains 'in the hands of the revolution.'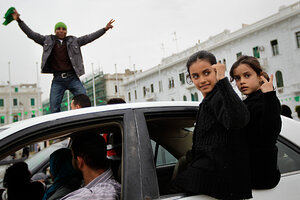 Jerome Delay/AP
A military spokesman for the rebel government in Benghazi, Libya, says the situation for the forces seeking to oust Muammar Qaddafi isn't as grim as it appeared to many earlier today.
Mr. Qaddafi's forces rained destruction on Ajdabiya today with fighter jets and rockets, and witnesses in the afternoon saw hundreds of militiamen fleeing the city, which is a key crossroads in the battle for control of eastern Libya.
By late afternoon, some of Qaddafi's forces were seen in the city. But Khaled el-Sayeh, a spokesman for Abdel Fatah Younes, a former Qaddafi loyalist now in overall command of rebel forces, says the town remains in rebel hands.
At a press conference, Mr. Sayeh said that a few small units under the command of Qaddafi's son Saadi, a former professional soccer player, made it into the city. He said all of the men in those pro-Qaddafi units were killed, though he didn't know their numbers.
That action, mounted by rebel forces that remained in the city, caused Qaddafi's forces to pull back, and there now a few kilometers west of the entrance to town, he said. "The city [Ajdabiya] is currently in the hands of the revolution and it's looking pretty good," he said.
He also said that the rebels' navy sank two oil tankers converted to "warships" today, and badly damaged a third, though he didn't say what naval assets were used to accomplish that or where it happened.
---