Why one Libyan mother joined the rebels
Nayla Mohammed El Farisi, a diminutive, fully veiled woman who lost a brother to Qaddafi's regime, works 10-hour days writing articles for a newspaper critical of Libya's dictator.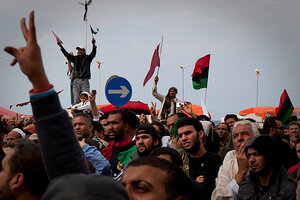 Anja Niedringhaus/AP
Libyan rebels may have gotten a reprieve from the United Nations Security Council resolution passed last night, but the stakes are still high for those who willingly defy Muammar Qaddafi's nearly 42-year rule.
More than a few have lost relatives or friends at the hands of the regime, which is notorious for torturing and killing its own citizens. But for people like Nayla Mohammed El Farisi, a fully veiled woman who stands barely five feet tall, that is precisely why they have joined the fight against Mr. Qaddafi.
"I'm torn apart," says Mrs. Farisi, a writer and charity worker whose brother was killed in prison 15 years ago. "I'm not doing this for personal revenge. I'm doing this because this is the sound of conscience. This revolution is the right revolution."
On a typical evening in the midst of Libya's uprising, Mrs. Farisi is found hustling around a makeshift newsroom in the North Benghazi Courthouse wrapping up 10-hour days writing articles for a newspaper created to criticize Qaddafi.
"Before I couldn't do anything. I was repressed," she says. "And now I feel like I can do everything."

Like the rest of Libya's 6.5 million citizens, Farisi has never before been able to speak out against the government, which has caused her family hardships for decades. She and her family are doing all they can to help put an end to the dictator's regime.

"Just because I'm dressed like this doesn't mean I can't do anything," says Farisi, who wears a long, dark dress and her face is fully veiled, her hands hidden by gloves as a sign of religious piety. "I know how to use a gun, I volunteered at the beginning of the revolution as a medical assistant in the hospital, and now I'm working with a charity."
---