How French jets saved Libya's rebels at the last minute
International airstrikes led first by France devastated an armored column loyal to Muammar Qaddafi overnight – saving the rebellion with little time to spare.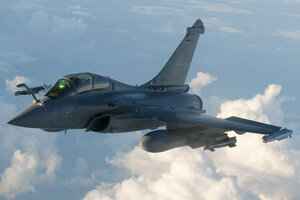 Christophe Patebaire/ECPAD/Reuters
Last Thursday night, with Muammar Qaddafi's forces drawing ever closer to the Libyan rebel capital of Benghazi, the United Nations Security Council promised action to protect Libyan civilians, touching off street parties across the country's liberated east.
Mr. Qaddafi responded by declaring a cease-fire only to break it hours later by resuming the shelling of civilian neighborhoods in the contested towns of Misratah and Ajdabiya.
Then, before dawn on Saturday, he struck the heart of the rebel campaign in Benghazi, sending rockets, tank fire, and infantry into civilian neighborhoods. Dozens of civilians and rebel fighters died in the assault.
Benghazi and the rebellion were hanging by a thread. If Libya's second-largest city fell back in the hands of Qaddafi loyalists, the resolve of Libya's rebellion would probably fall with it.
"So, we're being abandoned after all," said one young rebel as terrified residents poured out of a checkpoint on the eastern outskirts of town.
But then came the roar of French jets, followed by 112 Tomahawk missiles fired by US and British forces crippling Qaddafi's defenses and air capabilities – and staving off the likely execution for dozens of rebel leaders.
---