Will Yemen protests boost Al Qaeda?
Yemen protesters say Saleh has overstated the threat posed by Al Qaeda in the Arabian Peninsula to get US aid. But the group stands to benefit from major upheaval.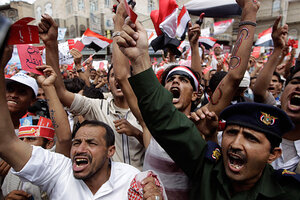 Ammar Awad/Reuters
Before protests broke out in Yemen, the greatest US concern here was Al Qaeda in the Arabian Peninsula (AQAP), the group behind the 2009 Christmas Day underwear bomber and other international terrorist attacks.
If President Ali Abdullah Saleh's regime were to collapse, the reasoning went, the US would lose a key ally in the fight to contain AQAP – potentially just as the country became more fragmented and difficult to control.
As upheaval of that magnitude appears increasingly near – Mr. Saleh is reportedly in talks to arrange a transfer of power – opposition leaders and protesters dismiss any AQAP threat. They say the group is a creation of Saleh designed to secure hundreds of millions in US aid for his impoverished country. Once Saleh disappears, they say, so will AQAP.
But while Saleh has been known to harness other Salafist militant groups for his advantage, AQAP has developed a momentum of its own. If Yemen's weak economic position and lack of development persist even after Saleh steps down, AQAP could take advantage of popular discontent and any resulting tumult.
"There are ways in which Saleh has exploited the existence of AQAP in the country, but the organization itself exists independently of the president," says Gregory Johnsen, a Yemen scholar at Princeton University in New Jersey. "If the government that comes next in Yemen is unable to deal with the harsh economic realities and some of the demands of the protesters, Al Qaeda will be in a good position to capitalize."
---