Beneath veneer of true love for Qaddafi, rebellion simmers in Tripoli
While the chest thumping of many Qaddafi loyalists in Tripoli is authentic, other Libyans in the capital are not afraid to say they side with the rebels.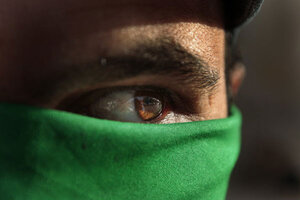 Jerome Delay/AP
Twenty-four hours a day, loyalists of Col. Muammar Qaddafi are in Tripoli's Green Square, chanting their love for their leader. At some traffic circles around the capital, devotees have erected tents from which to wave flags and challenge allied airstrikes with their voices and pumping fists.
And on the most important platform of all, state-run Libyan TV, there is an endless loop of speeches by Colonel Qaddafi, street rallies rich with unquestioned support, and now video footage that purports to show hospital scenes of civilians wounded by Western attacks.
There is no doubt that the chest thumping of many Qaddafi loyalists is authentic, and is not limited to only a handful of Libyans.
But the evidence of recent widespread rebellion against four decades of Qaddafi's rule is also plain to see – and very easy to hear – in Tripoli. Revolutionary Committee offices that were ransacked and burned in the first heady days of unrest in mid-February remain wrecked and blackened hulks.
Not far beneath the official veneer of true love, in fact, are many Libyans who are not afraid to say that they side with the rebels against the "Brother Leader," and can't wait for regime change.
The anger seeps out at gas stations, where long lines stretch for blocks in the capital.
---