Iraq unveils refurbished palace where US soldiers once hung laundry
Ahead of the May 10-11 Arab League summit, Iraq has prepared suites, ballrooms, and manicured gardens in anticipation of receiving 22 invited heads of state.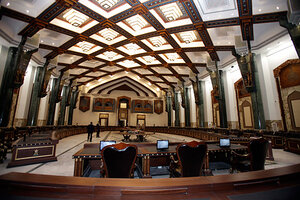 Karim Kadim/AP
Iraq on Monday unveiled an opulent renovated palace intended to host an Arab League Summit next month and send the message that the country has moved beyond Saddam Hussein and the US Army generals who were its previous tenants.
In the first viewing of Iraq's Government Palace, Foreign Minister Hoshyar Zebari took a group of reporters on a tour of elaborately restored ballrooms, manicured gardens, and newly designed presidential suites reserved for some of the 22 invited heads of state.
"You see – it's completely ready," said a delighted Mr Zebari pointing out the plush new Turkish furniture. "I'm very happy for the country and the people. They can do things."
The former Republican palace was built in the 1950s for a young King Faisal, who was assassinated before he could live there. Saddam Hussein more than doubled its size, ordering his initials carved into the stonework and affixing huge bronze likenesses of his head to the roof. Later suspected of harboring evidence of weapons of mass destruction, the palace was searched by a team of diplomats during the era of UN weapons inspections.
After Saddam was toppled, US occupation authorities took it over with soldiers sleeping on cots and draping laundry over the marble staircases and State Department contractors holding parties by the pool.
Few of those traces remain.
In one of the conference rooms, a mural commissioned by Saddam showing Scud missiles being launched has been painted over with a busy panorama of Iraq's ancient history. His initials have been erased. Gone too, is evidence of the damage from rockets and mortars repeatedly hitting the palace complex for much of the past eight years.
---