686,000 Libya refugees flee to Egypt, Tunisia
Trucks were piled high with household items as Libya refugees crossed the border into Tunisia seeking safety from an escalation in random bombings.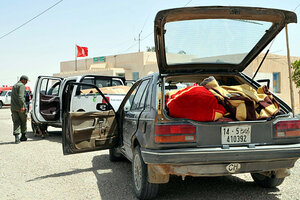 Chokri Mahjoub/AP
DehibaWazin Border, Libya
The Libyan revolution that began in February with hopes that Col. Muammar Qaddafi would quickly be toppled like the Tunisian and Egyptian autocrats before him, has turned into a protracted conflict with a grim human cost.
Hundreds of thousands have fled the violence. The exodus statistics compiled by the United Nations contain all categories of Libyan migrants. UN High Commissioner for Refugees Antonio Guterres on Tuesday called on Western nations to help, with the agency saying 686,422 had left Libya as of May 4, mostly for Egypt and Tunisia.
There have been columns of migrant workers from as far away as Ghana and Bangladesh, paid with oil money to build and maintain Libya's infrastructure (many of those leaving were robbed on their way out at police checkpoints). There are Turks and other big investors who left behind lucrative projects.
---