Ayman al-Zawahiri: How will he shape Al Qaeda?
Al Qaeda's former No. 2 Ayman al-Zawahiri is seen worldwide as the top leader of Al Qaeda. But he may lack the charismatic Osama bin Laden's ability to rally followers.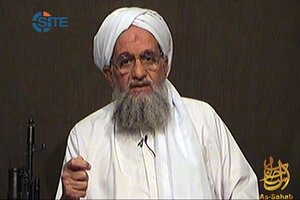 AFP Photo/HO/Site Intelligence Group
Ayman al-Zawahiri is the likeliest choice to replace Osama bin Laden as the head of Al Qaeda, though his predicament today probably gives new vigor to Shakespeare's "uneasy lies the head that wears a crown."
Bin Laden, after all, was killed by US commandos at his compound near the Pakistani capital following years of painstaking work tracking Al Qaeda couriers and developing new techniques to analyze intelligence.
US officials say they're combing over a trove of fresh documents and computers found at bin Laden's Abbottabad, Pakistan compound. Mr. Zawahiri, likely in a Pakistani compound of his own, must be wondering how long he'll be able to hold down the new job.
And just as Zawahiri's own safety is in doubt, so is the future of Al Qaeda. The fringe ideology that drives the group's members isn't about to die out completely. But it has just lost its charismatic, revered spokesman. Zawahiri – pedantic, irascible, and given to fueling obscure ideological conflicts within jihadi ranks – is seen as a poor substitute.
Bin Laden's public speech was measured, friendly, and he managed to wrap himself in a saintly aura that many Muslims responded to. Zawahiri generally comes off as an angry, droning crank, and so gets little traction among any but the already converted.
But his leadership for now seems assured, even if Al Qaeda's propaganda outlets have been silent on the killing of bin Laden so far.
Who is he?
The Egyptian doctor is the group's main ideologue and one of the few remaining charter members of the Global Front for the Jihad against Crusaders and Jews, as he and bin Laden dubbed their enterprise in 1998. It's no accident that he is now alone atop the US most wanted terrorist list, with a $25 million price on his head.
---