US troops in Iraq: US, Maliki weigh possible extension
Amid the volatile Arab Spring and ongoing security threats in Iraq, top US military officials have expressed openness to keeping troops on the ground past the Dec. 31 deadline for withdrawal.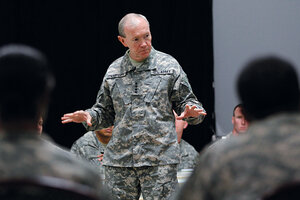 Mohammed Ameen/Reuters
At Al-Faw Palace on Baghdad's outskirts, the footsteps of a dwindling number of American officers and soldiers echo through nearly deserted marble hallways.
Four-star generals, one after another, have fought a dramatically shifting war from here. But after eight years, more than 4,400 US deaths, and billions of dollars spent since its military toppled Saddam Hussein, the United States appears to be fighting to finish what it started.
As the deadline for US withdrawal looms, Iraq's readiness to ensure security, stability, and democratic freedoms remains uncertain. But some segments of Iraqi society oppose the US maintaining a presence here – even a diplomatic one.
"On the international level there's a great deal we have to offer," says a senior US embassy official. "I think the prime minister understands and appreciates that. I think much of the political leadership does. I'm not sure the Iraqi public does."
On paper, the future of the US military in Iraq is clear-cut. US and Iraqi officials say there are no plans and no negotiations to extend the troop presence here past the agreed Dec. 31 deadline – a major political priority in both Washington and Baghdad. But faced with that rapidly approaching date in a newly volatile Middle East, the US, at least, seems to be having second thoughts.
---