Netanyahu's make-or-break speech to Congress
Israeli Prime Minister Benjamin Netanyahu, long criticized for being passive and reactionary, is under pressure to exhibit the Zionist legacy of risk-taking and initiative in his address to Congress today.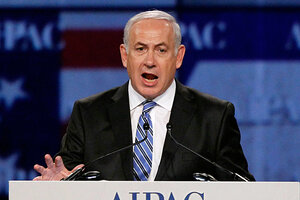 Jason Reed/Reuters
Four days after publicly spurning President Obama's vision for ending the Israeli-Arab conflict, Prime Minister Benjamin Netanyahu is under pressure from supporters and critics alike to present an alternative plan for peace as he addresses a joint session of US Congress.
In the shadow of regional change, Mr. Netanyahu has been attacked for taking a passive, reactive stance that favors his own political survival over meaningful progress with the Palestinians. Now, with Palestinians gaining momentum on a United Nations vote to establish a Palestinian state without Israel's approval, his country faces a growing threat of isolation and attacks on its legitimacy.
Many see Netanyahu's speech today as an opportunity to take the diplomatic initiative, tapping into an Israeli legacy of risk-taking, initiative, and creativity that stretches from the country's founding fathers to today's technology entrepreneurs. That spirit – summed up in Zionist leader Theodore Herzl's phrase, "If you will it, it is no dream" – has been seen in everything from preemptive military attacks to a unilateral withdrawal from the Gaza Strip.
"The basic premise of Zionism is that the Jews need to take responsibility for their fate, and what distinguishes Israelis from Jews in the past is that we can be masters of our destiny," says Yossi Klein Halevy, a fellow at the Shalom Hartman Institute.
"To say that there is nothing for Israel to do to improve its situation is to commit an act of heresy against Zionism, and so some Israelis see Netanyahu's seeming paralysis as a negation of the national ethos," he adds.
---