Yemen's power struggle
With President Saleh convalescing abroad, there is an urgent need to establish a clear political order not only for Yemen's security but also its economy, which could collapse within months.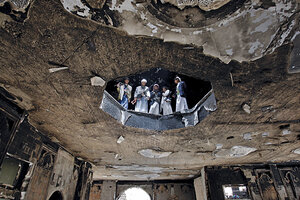 Ahmad Gharabli/AFP/Newscom
In Yemen's capital, a dusty city of more than 2 million surrounded by rugged mountains, security forces roam the streets to keep a lid on the rebellion after President Ali Abdullah Saleh abruptly left the country.
All along Sanaa's major thoroughfares, they stare down the barrels of Russian DShK heavy machine guns mounted in the back of camouflage-painted pickup trucks. Meanwhile, protesters chant, "Stay away, Ali Saleh!"
Officials insist that the president, who was badly injured in a June 3 attack on his home and went to Saudi Arabia for medical treatment, will return to reassume the post he has held for 32 years. But how long that may take is uncertain. In the interim, an elite power struggle could profoundly shape the future of Yemen.
"There are a lot of people who stand to benefit from continued violence," says Yemeni political analyst Abdul-Ghani al-Iryani. "Saleh's boys won't hesitate to use violence to honor their father and, of course, the political opposition is always looking for a way to keep themselves relevant."
While the major players set their sights on the presidential palace, a small band of armed militants known as Al Qaeda in the Arabian Peninsula (AQAP) is threatening to seize territory in the south. Clashes this weekend reportedly killed 10 soldiers and 21 suspected AQAP militants.
There is an urgent need to establish a clear political order not only for the country's security but also its economy, which a Western diplomat here says is set to collapse by August amid shortages of basic supplies and soaring prices.
---