Bahrain stages trials of opponents, despite new US criticism
Five of the six trials were held before a military tribunal. The US last week added Bahrain to its list of human rights abusers, which the kingdom called a regrettable 'rush to judgment.'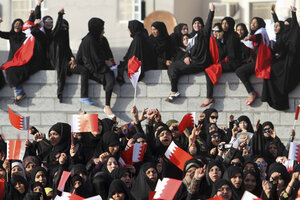 Hamad I Mohammed/Reuters
Days after the US designated Bahrain a human rights abuser, putting it in the company of North Korea and Zimbabwe, the small Gulf kingdom yesterday pushed on with six trials of political opponents and hauled in the wife of a jailed former member of parliament for hours of questioning.
Five of the trials were staged before a special military tribunal, which has handed out death sentences after rushed secret proceedings. The island's high court was the venue for the sixth, a highly controversial case in which four former editors were charged with fabricating reports in Al Wasat, at the time, Bahrain's sole independent newspaper.
The trial continues on July 3. If found guilty, the editors – one of whom is being tried in absentia – could face up to two years in jail or high fines. A US Embassy observer attended the trial, and media were allowed in.
Sunday's judicial hearings all stem from Bahrain's "Arab spring," a month of unrest on the island, whose Shiite Muslim majority chafes under a political system that concentrates political power in the hands of the Sunni Muslim minority regime.
Bahrain regrets US 'rush to judgment'
As part of a crackdown that began after the arrival of Saudi and other Arab troops in mid-March, the government has fired hundreds of Shiites, starting with the doctors and nurses who treated protesters injured when security forces started shooting at them, and put four dozen medics on trial.
Bahrain has arrested hundreds of other state employees, permitted widespread and systematic human rights abuses in its prisons, according to witness testimony, and jailed leading political critics, Sunni and Shiite alike. The government also destroyed dozens of long-standing Shiite mosques.
---