Gaza flotilla renews debate on Israel's blockade
A flotilla of ships set to leave Greece for Gaza this week is reigniting arguments about the wisdom of Israel's trade restrictions to the Palestinian territory.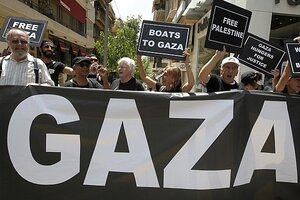 Petros Giannakouris/AP
A year ago, deadly clashes between Israeli soldiers and pro-Palestinian activists on a Gaza-bound flotilla of aid forced Israel to relax its blockade on the Gaza Strip and lift a ban on consumer goods such as chocolate – giving the local economy a boost for the first time in years.
But as a second flotilla gathers in the Mediterranean to test Israel's maritime closure of Gaza, land restrictions on Gaza trade are also still a bone of contention. The scaled-back blockade is still an economic drag, with tight restrictions on exports and imported building materials.
While Gazans no longer have to buy bottles of cola caked with mud from the smuggling tunnels beneath the Egyptian border, the underground economy has shifted to cement, steel, and automobile parts. And despite Egypt's recent announcement that it would open up its pedestrian crossing at Rafah, the result has been marginal improvement.
"Nowadays you go to the supermarket, and you get everything," says Mkhaimer Abusada, a professor of political science at Al Azhar Univeristy in Gaza City, who says he became used to the layer of dirt covering bottles of Coca-Cola. "Even though the situation is much better than a year ago, still the Palestinians have a general feeling that they are under siege."
IMF: Gaza economy still down 20 percent
In an April report, the International Monetary Fund (IMF) described the economy of Gaza as trying to "catch up" to normal levels. It noted a 15 percent jump in output in 2010, though that remains 20 percent below what it was six years ago.
---