Intense Israeli lobbying stalls Gaza flotilla
A US contingent is bringing Arabic translations of a book about Martin Luther King Jr., saying they want to show Palestinians that nonviolent resistance can work. But they're stuck in Athens.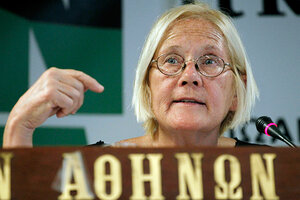 Petros Giannakouris/AP
International activists from a dozen countries are trying to break Israel's blockade on the Gaza Strip, just a little over a year after a Gaza-bound aid flotilla ended in a fatal confrontation with Israeli naval commandos.
The participants should have already set sail. But the US boat at least is being held up in Athens on what activists say are spurious charges amid a broader Israeli push to thwart a repeat of last year's events.
This flotilla is attempting to reach Gaza in a dramatically changed regional context from May 2010, before the uprisings collectively known as the Arab Spring. With the chance for real democratic change in Israeli neighbors like Egypt, organizers are hoping to press home their argument that the Palestinian residents of Gaza are as deserving of basic freedoms as any of their neighbors.
"It's even more relevant this year," says Robert Naiman, a US activist waiting to board in Athens. "There's a revolution of popular expectations and we're playing out on a stage in which governments in the region feel more pressure to respond to public opinion."
"After the last flotilla, a Hamas legislator said it 'did more than 10,000 rockets to change things.' That shows we're reaching people," continues Mr. Naiman, who is bringing Arabic translations of "The Montgomery Story," a 1958 comic book about Martin Luther King Jr., nonviolent resistance, and the Montgomery, Ala., bus boycott.
---