Glenn Beck to Israeli parliament: Chin up, I'm with you
Political commentator Glenn Beck spoke at an Israeli parliament meeting today, pledging his love for the Jewish state and criticizing a 'skewed' US press.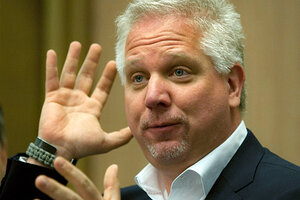 Sebastian Scheiner/AP
Former Fox host Glenn Beck gave a public relations pep talk in the Israeli parliament today, urging legislators not to mince words that the conflict with the Palestinians threatens Israel's existence.
Mr. Beck is making three solidarity trips to the Jewish state this year at a time when Israelis are anxiety ridden about diplomatic and economic isolation from the deep freeze in the peace process. The parliamentary hearing comes just days after Mr. Beck hosted his last program on the Fox News channel.
He's the latest US religious conservative figure to find fans among pro-settler Israeli politicians like Danny Danon, a member of Prime Minister Benjamin Netanyahu's Likud Party who hosted Beck at a parliamentary committee.
"In America, the media is skewed on Israel," Beck said at a hearing of the Knesset's Committee on Immigration and Diaspora affairs. "The Israeli Palestinian conflict … is about the destruction of Israel and the end of the western way of life. Period."
---