Iraq set to double planned purchase of F-16s, but will US troops stay into 2012?
'[Iraq] is less safe, in my judgment, than 12 months ago,' Stuart Bowen, the special inspector general for Iraq reconstruction said in his quarterly report to Congress released Saturday.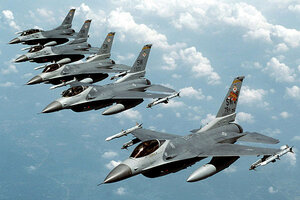 Staff Sgt. Greg L. Davis/USAF/Reuters/File
Iraqi Prime Minister Nouri al-Maliki signaled continuing military cooperation with the United States on Saturday, including plans to double a planned purchase of US fighter jets to help the fledgling Air Force defend the country.
"We have to provide Iraq with aircraft to safeguard it's sovereignty," Mr. Maliki told reporters after a major address to Iraq's parliament that was closed to the press. "We will make it 36 [F-16s] instead of 18."
Maliki's government had previously postponed the planned purchase of 18 of the jets, diverting almost $1 billion of the money needed for the payment to food for the poor in what was seen as a response to public anger after protests spread to Iraq from other parts of the region.
Will US troops remain in Iraq?
Asked whether he was closing the door on getting a parliamentary agreement for US troops to remain in Iraq after this year, Maliki declined to answer directly but said military trainers would require only memorandums of understanding rather than approval from lawmakers.
"The existence of the trainers within the context of training doesn't require voting by parliament but the existence of any soldier outside the agreement … or granting immunities requires their approval," he said.
While the US has made clear it wants to negotiate keeping some troops here, US officials have also said that immunity from prosecution in Iraq would be a condition for any such agreement.
Iraqi officials have said recently they were unlikely to muster the broad political support needed for parliament to agree to a new status of forces agreement.
Instead, they have suggested a smaller number of advisers and trainers in agreements negotiated between ministries.
---