Palestinian statehood bid wins broad support in Gaza, West Bank (video)
Everyone from Hamas supporters to shopkeepers in Ramallah have backed the Palestinian statehood bid at the UN, but some warn that failure could lead to a third intifada.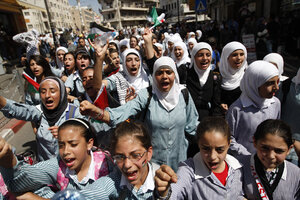 Majdi Mohammed/AP
Ramallah, West Bank; and Gaza City, Gaza
A Yasser Arafat lookalike rolls his eyes in a faintly alarming way, drawing laughter from his growing crowd of onlookers as a drumbeat of Arabic music holds the crowd in its grip.
The act is part of a festive atmosphere in Ramallah, where thousands of Palestinians gathered this week to fête Palestinian leader Mahmoud Abbas's formal launch of the Palestinian statehood bid at the United Nations in New York today.
"Finally the world will learn there is a place called Palestine," grins Rasha Hussein, a student in a YouTube t-shirt, attending a march against her parents' wishes. "We've been silent for a long time. We have to make a move to get somewhere."
It is a sentiment echoed by others in this city, which has seen a measure of prosperity in recent years, as evidenced by the growing number of small businesses, a modest boom in hotels, and a steady stream of visitors. Palestinian Authority Prime Minister Salam Fayyad's two-year statebuilding initiative leading up to the UN bid has arguably borne most fruit here.
---