Palestinians forge ahead with UN statehood push. Are they ready?
Palestinian leader Mahmoud Abbas yesterday confirmed a push to seek full membership at the UN as a sovereign state. But despite support for recent Palestinian Authority reforms, the UN move could backfire.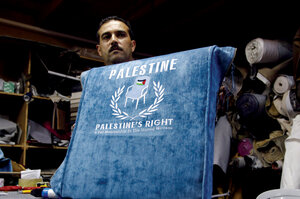 Mohammed Ballas/AP
Between tightly packed meetings with foreign diplomats, local clan leaders, and manufacturers, Hebron Mayor Khaled Osaily offers visitors a glossy booklet detailing the achievements of the West Bank's largest city.
A former tycoon, he has brought a business mentality to Hebron's bureaucracy, introducing new programs that have streamlined operations.
"This is the foundation of the state," he beams.
On the first floor of the municipality building, a row of tellers sit behind flat-panel displays – Hebron's "one-stop shop" for citizen services, as he calls it, which has reduced processing time by about two-thirds. One floor up, the municipality's chief for water resources boasts that a new computerized monitoring system cuts down on wasted water.
Beyond the confines of the municipal building, work is being completed on a new community center and school, a project financed by South Korea.
"We are better than many other countries already," says Mayor Osaily.
Indeed, the whir of activity in Hebron is part of a broader Palestinian Authority (PA) initiative to demonstrate that the building blocks of independence are in place ahead of a key United Nations vote on Palestinian membership.
---