Yemen conflict deepens as dissident general's troops enter fray
The return of President Ali Abdullah Saleh has sharpened the fight between his supporters and rivals – and raised concerns that the citizens who started the peaceful uprising will be the losers.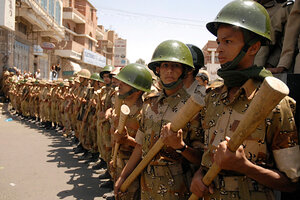 Mohamed al-Sayaghi/Reuters
After a summer stalemate in Yemen, the sudden involvement of defected troops headed by a long-time confidante of the president turned dissident general – Gen. Ali Mohsen al-Ahmar – has prompted fears that the outcome of the so-far peaceful uprising may end up being determined by Yemen's fractious armed forces.
The Sept. 23 return of President Ali Abdullah Saleh, who had been recovering in Saudi Arabia from an assassination attempt three months earlier, has plunged the country into a deeper state of uncertainty and sharpened the differences between pro- and anti-government camps. His supporters feel more emboldened with him here, his opponents all the more determined to topple him.
A crackdown by security forces on a mass rally last Sunday set off a bout of fierce military confrontations in the capital between the Republican Guard – an elite force headed by President Saleh's son Ahmed – and a division of General Mohsen's renegade soldiers who have been guarding the city's protest encampment, "Change Square," since siding with the opposition back in March.
The two sides bombarded each other with mortars and machine guns, but it was the pro-democracy demonstrators who bore the brunt of the violence. Over a hundred protesters were killed in the space of five days, some by government troops using anti-aircraft guns. It's the worst bloodshed seen in Yemen since anti-government rallies first broke out in January.
---