Israeli-Palestinian jolt? Why some want to dismantle PA.
Their UN membership bid failed. They don't want to resume Israeli-Palestinian talks without a settlement freeze. Now some Palestinian officials have a new idea: dismantle the Palestinian Authority.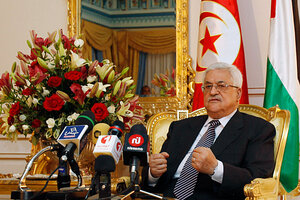 Zoubeir Souissi/Reuters
The Palestinian Authority is seeking to regroup after the United Nations Security Council officially declared its bid for full UN membership to be dead.
After the Council's announcement Friday, Israeli-Palestinian relations returned to a familiar stasis this week. In talks with the Quartet (the US, UN, European Union, and Russia) yesterday, Israel sought a return to the table with no preconditions and Palestinians insisted on a settlement freeze before resuming talks.
The failed UN statehood bid is a setback for the beleaguered PA and sharpens the debate over its future, nearly two decades after it was set up as a transitional government.
In the past two years, the PA has won international praise for a reform campaign to prepare for independence. But now, amid increasing frustration that the PA is but a Palestinian façade for Israeli occupation of the West Bank, Palestinian officials are signaling they may undo PA gains by voluntarily dismantling the government and handing responsibility for daily management back to Israel.
Hani el-Masry, a Palestinian analyst close to the PA, said that the Palestinian civil affairs minister informed counterparts in the Israeli army that the Palestinian Authority plans to begin transfer authority for health and education back to Israel, potentially turning back the clock 17 years to when Israel had direct control over the daily management of Palestinians.
The counterintuitive move reflects frustration with the lack of progress in the peace process and accompanies an escalation of repeated warnings by PA President Mahmoud Abbas that he will resign if he doubts that negotiations will ever bear fruit.
Mr. Abbas declared Saturday that despite the failed UN bid, he would not dismantle the PA, but speculation persists.
Both Abbas's threats of resignation and other calls for dismantling the PA, are considered brinkmanship because they threaten a vacuum of power in the West Bank that would be a headache for Israel and the international community. It also might reflect uncertainty over what to do now that the Palestinians' controversial campaign for UN membership is moving into a different phase.
---
Follow Stories Like This
Get the Monitor stories you care about delivered to your inbox.