After war in Iraq, Biden heralds new era of US involvement
Vice President Joe Biden made a surprise trip to Baghdad yesterday to honor US sacrifices in the war in Iraq.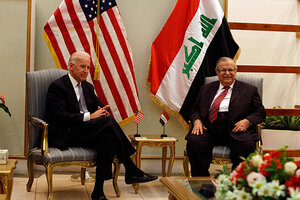 Khalid Mohammed/AP
Vice President Joe Biden arrived Tuesday in Iraq for a surprise visit aimed at touting the administration's promise to end the war, and also to thank US and Iraqi troops – and to start talks on a "new phase" in US-Iraqi relations.
The White House cast Biden's unannounced visit – just over two weeks before the last US forces are scheduled to leave the country – as a chance to highlight President Barack Obama's 2008 campaign promise to wind down the war in Iraq.
The administration said Biden would "commemorate the sacrifices and accomplishments of US and Iraqi troops" as well as meet with Iraqi officials as the US begins a "new phase" of cooperation with the country on a wide range of issues.
It's Biden's eighth visit to Iraq since becoming vice president.
"It's good to be back for this purpose," said Biden. At the US Embassy in Baghdad, which was decorated for Christmas, he met with Ambassador James F. Jeffrey and Gen. Lloyd Austin, the commander of US forces in Iraq. Biden, who was last in Iraq in January, noted that Austin kidded him that he's now eligible for Iraqi citizenship.
'Ending the war responsibly'
---