Why Iraqis in oil-rich Kirkuk want US troops to stay
US troops are due to leave Iraq by Dec. 31, but this province sees them as a key force for stability. Iraqi leaders agreed this week to begin negotiations that could keep some US troops longer.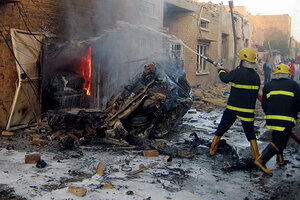 Emad Matti/AP
Away from the sweltering heat and dust engulfing this northern Iraqi city, a group of friends from different ethnic groups recently discussed the future of their country in an air-conditioned store.
While their friendship appears to have survived years of ethnic division in oil-rich Kirkuk, they are all concerned about what might happen to their city if US troops leave Iraq by the end of the year as planned.
"Ideally, I would not want US soldiers to be here. But the reality makes me want them to stay," says Mohammed Jassim, as his friends nod in agreement. "If they were to leave now, problems and tensions might emerge," adds the young Arab musician. "There are many sides who don't want things to go well here."
Indeed, as the Dec. 31 deadline approaches for the US to withdraw from Iraq, a broad consensus is taking shape in Kirkuk that a continued US military presence is key to stability.
The province of Kirkuk, which shares the name of its capital city, is home to one of the world's largest oil reserves. It has been at the center of decades-long rivalries among Kurds, Arabs, and Turkomans, who hold competing claims on the land. Iraq's 2005 Constitution stipulated that a referendum be held within two years to resolve those land disputes, but the vote still has not taken place.
Now militant groups, composed mostly of Saddam Hussein loyalists or Islamist extremists, appear to be exploiting divisions in the province, which lacks a unified security force of its own.
"I think the terrorist groups are concentrating on places like Kirkuk and Mosul, where they can instigate political differences among the groups," says Najmaldin Karim, Kirkuk's Kurd­ish governor, one of the few officials who has been willing to publicly urge US forces to stay. "The US can play a good role as a broker between different communities in Kirkuk and intervene in times of crisis."
---