Free Syrian Army: Better tool for toppling Syria's Assad than UN?
As Arab and European nations push for a new resolution at the UN Security Council tomorrow, the Free Syrian Army is emerging as an increasingly influential player. But it needs weapons, money.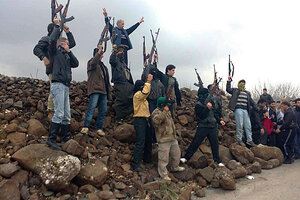 Reuters
As hope for a diplomatic solution to Syria's violence fades, international attention is turning to the rebel Free Syrian Army as an alternative means of toppling President Bashar al-Assad.
The FSA has in the past two months become an influential player in the ongoing confrontation between the Assad regime and the Syrian opposition. As the FSA's ranks have swelled with deserters from the regular Syrian forces as well as civilian recruits, it has driven an upsurge in attacks against regime forces.
Rebel FSA troops were reportedly engaged in heavy clashes within five miles of Damascus, the capital and a stronghold of Assad support that until lately has been largely quiet in the 10-month uprising. The FSA has managed to carve out a few tenuous pockets of regime-free territory, although its hold on these areas is fragile given its lack of weapons and ammunition and weak logistical supply chain.
"I believe the FSA is now one of the drivers of the situation. It is going to shape the outcome," says Jeffrey White, a military analyst with the Washington Institute for Near East Policy (WINEP) and author of a new briefing paper on the FSA. "It has changed the nature of the conflict with the regime, is becoming increasingly identified with the popular opposition within Syria, has shown resilience on the battlefield, and is growing in capabilities and numbers."
---