Tunisia debate turns personal: 'Pray more and turn down that Metallica'
Tensions between Tunisia's secularists and newly empowered Islamists are playing between brothers and sisters, mothers and daughters, as the country drafts a new constitution.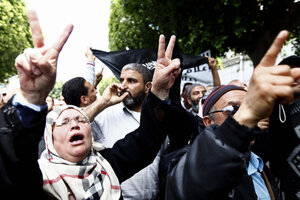 Anis Mili/Reuters
When her daughter began wearing the Islamic headscarf three years ago, Amel Bennajeh was so upset that she kicked the teenagers out of the house. They have since reconciled their relationship, but not their views.
"I still don't approve of her clothing," says Mrs. Bennajeh, sunglasses perched on her coiffed hair. Her daughter, Rania Mkaddem, sits beside her, smiling patiently.
Their disagreement over Islamic dress mirrors a larger debate unleashed by revolution here last year that ended decades of dictatorship: Will the new Tunisia be a secular state, an Islamic one, or something in between?
That question underlies a trial hearing today for Nabil Karoui, a TV station owner accused of offending public morals and a recognized religion in October 2011, when his station aired the cartoon film "Persepolis." The film includes a depiction of God, considered forbidden in Islam.
How Tunisians handle the debate over religion – particularly in the writing of a new constitution now under way – could offer lessons for other Arab countries such as Egypt and Libya, where popular uprisings have empowered Islamists long persecuted by autocratic regimes.
"At a time when we are looking to the Tunisian government to set an example by enshrining full respect for human rights in the country's new constitution, it is disturbing to see this trial continuing," said Hassiba Hadj Sahraoui, deputy director of Amnesty International's Middle East and North Africa program.
---