Yemen's President Hadi surprises pessimists with moves toward reform
Two months into office, the longtime deputy of former President Ali Abdullah Saleh has sacked numerous Saleh appointees and shaken up the military leadership.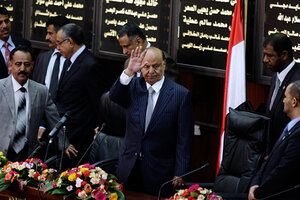 Hani Mohammed/AP
Yemen's new president, Abdo Rabbu Mansour Hadi, has confounded pessimistic forecasts about his ability to bring change to his impoverished country.
Yemen is facing myriad threats to its stability and security – not least of all, Al Qaeda in the Arabian Peninsula (AQAP), and many assumed the country's politics would trundle on as before.
But appearing increasingly comfortable in his position two months into his term, Mr. Hadi has begun what many characterize as a steady if cautious process of reform after taking over from Ali Abdullah Saleh, who had held the country together for 33 years by shrewd maneuvering and a deeply entrenched patronage network.
Hadi, a long-time but relatively obscure Saleh deputy, was brought to power in late February under a Western-backed deal aimed at ending a year-long uprising. Since then he has sacked numerous governors appointed by Mr. Saleh, and initiated reform of the civil and public sector. But most notable, perhaps, has been his cautious entrée into the sensitive process of military restructuring.
This all comes as a surprise to many observers. Hadi was largely seen as a loyal part of the former regime and, many Yemenis worried, a figure who would be unwilling or unable to tackle the issues facing Yemen.
He became president through a one-man election according to a power-transfer deal, negotiated by the Gulf Cooperation Council to force Saleh, the target of a year-long nationwide uprising, out of office.
Hadi's decade and a half as Saleh's vice president had earned him a reputation as a largely powerless, if enigmatic figure. He was sarcastically referred to as "the statue" by much of Yemen's intelligentsia for his frequent, silent presence behind Saleh at public events.
---