Palestinians mark Nakba Day with slingshots, despite calls for calm
Nakba Day, translated to 'catastrophe day,' marks the day the state of Israel was created and hundreds of thousands of Palestinians were displaced.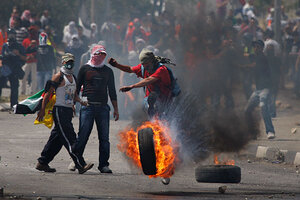 Majdi Mohammed/AP
Palestinian protesters marking Nakba Day clashed with Israeli soldiers in the West Bank today injuring at least 70, despite attempts from Palestinian leaders to avoid violence and a recent deal with Israel to end a prison hunger strike.
Nakba or "catastrophe," marks the day the state of Israel was created and caused the exile of hundreds of thousands of Palestinians, most of whom remain refugees in countries such as Lebanon, Syria, and Jordan.
Many analysts expected calm today, as a result of last night's deal, in which most of some 2,000 Palestinians on hunger strike in Israeli jails quit their fasts, in exchange for concessions from the Israeli prison service to improve jail conditions.
But instead, clashes erupted between Palestinian youth and Israeli soldiers near the prison, highlighting anger among some who felt the deal was too weak and should have released more prisoners. While the deal moved many prisoners out of isolation and will allow family visits for prisoners from Gaza, there was no commitment from Israel to end the practice of holding Palestinians without charge.
"My son Rami is in there," says Rizek Fadayel, a refugee who fled from Jaffa in modern day Israel and lives in Ramallah in the occupied West Bank, pointing behind him toward the prison complex. "He was given six months, but maybe they will give him six more."
Hoping to avoid confrontation, the Palestinian Authority (PA) organized Nakba events in the center of Ramallah, far from flash points with Israel. On a large stage in the recently renamed Yasser Arafat Square, musicians performed for a crowd of flag-waving Palestinians, some hoisting each other on their shoulders.
---