Tahrir Square fills again as protesters contest Egypt's military rule
Thousands of protesters gathered in Tahrir Square Tuesday to criticize the Egyptian military's power grab in the shadow of Sunday's presidential elections.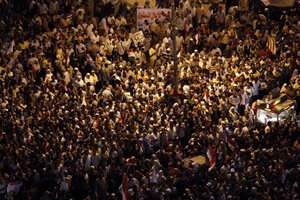 Ahmed Jadallah/Reuters
Thousands of people gathered in Tahrir Square Tuesday to protest a move by Egypt's military rulers to limit the authority of the incoming president and extend their own power past the end of this month, when they had promised a full handover to a civilian government.
Many of those who turned out were members or supporters of the Muslim Brotherhood, whose candidate, Mohamed Morsi, has claimed victory in the first presidential race since the ouster of former President Hosni Mubarak. Some secular groups joined the protests as well.
Protesters decried the military's power grab. "This is a military coup against the people," said protester Galal Osman. "We want the president that we elected to have all the powers of his office. We want to write a constitution without the military interfering. You can't have 19 unelected men subverting the will of the people."
Tareq Mohamed Eid, who carried a large picture of Mr. Morsi around the square, said the military rulers should give up their power for the sake of the country. "It's not their right to dissolve an elected parliament and an elected constitutional assembly."
Last week, the military ordered Egypt's parliament dissolved after a court found error in the law governing the elections, and the Justice Ministry gave military police the right to arrest citizens for a wide range of crimes. On Sunday evening, as votes were being counted from the presidential election, the military council currently ruling Egypt announced it was granting itself legislative powers until a new parliament is elected, along with power over all military affairs and extensive control over the process of drafting a new constitution.
---