Israel considers drafting its Arab citizens
Plans to reform Israel's draft law include the possibility of requiring Arab citizens of Israel to perform non-military national service. Serve us first, many of them say.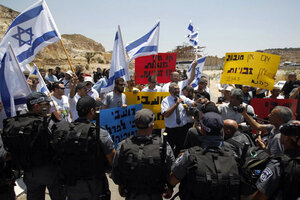 Baz Ratner/Reuters
Thousands of Israel's Arab citizens could soon be asked to do national service for their country, but many are pushing back, saying Israel has yet to serve them.
"When the moment comes and we are asked to perform civil service, we will resist," said Nizar Hilawa, an Israeli Arab activist at a recent festival in the Israeli town of Nazareth. "Israel wants us to do service to the state, but first of all this state has to treat us as equal citizens."
Israeli Prime Minister Benjamin Netanyahu has made military draft reform a top priority, primarily to "share the burden" of military service between Israel's secular and ultra-Orthodox Jews, who are currently exempt from serving in the Israeli Defense Forces. This month Mr. Netanyahu proposed a bill suggesting that by 2016, some 6,000 ultra-Orthodox Jews should serve in the IDF.
The bill also includes a less-talked-about provision that would require 5,000 Arab citizens of Israel to perform national service. Resistance is coalescing among Israel's 1.5 million Arabs, who make up about 20 percent of Israel's total population. Like the ultra-Orthodox, they have been exempt from compulsory service since Israel's inception.
Netanyahu's office ruled out the possibility of compulsive military service – a scenario Israel's Arab community has long feared – earlier this month, but it will become a reality for civil service, says Mark Regev, an Israeli government spokesman. "We want to see an incremental process where more and more Arabs perform the service," Mr. Regev says.
---