Syria's rebels have a new villain: the United States
The US has stepped up its rhetoric against President Assad and is providing covert support to rebels. But for many fighting the Assad regime, it is not enough.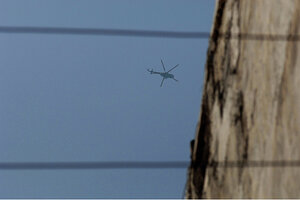 Scott Peterson/The Christian Science Monitor/Getty Images
For those challenging the rule of Syrian President Bashar al-Assad, the list of villains has always included the regime's closest allies: Russia, Iran and Hezbollah.
But as the death toll rises and Syria marks 17 months and counting of revolt, many in the embattled city of Aleppo say they have added another, perhaps surprising, villain: the United States.
The US is an arch-foe of the Syrian regime. US officials have stated plainly and repeatedly that Assad "must" go. And President Barack Obama earlier this year signed a secret order authorizing clandestine aid to rebel forces, it was reported today.
But in the rebel-held enclave of Salaheddin, guerrilla gunmen and ordinary Syrians alike wonder why the US has not acted to stop the killing by at least ending the Syrian Army's artillery bombardment and imposing a no-fly zone on the helicopters and planes that menace them from the skies.
"We all believe the US and all Western countries want Assad to stay in power," says the coordinator for the Revolutionary Council in Aleppo, who gave his name as Abu Thaier.
---