In rebel-held 'Free Syria,' regime planes still terrorize
President Assad's ground troops are nowhere to be seen in the rebel-held territory they call "Free Syria." But without a no-fly zone, civilians, like those today in Al-Bab, find themselves constantly vulnerable to aerial assaults.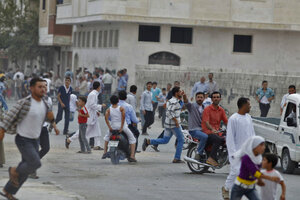 Javier Manzano
The mood was triumphant today as Al-Bab residents emptied from mosques and marched to the city's Freedom Square to call for the end of President Bashar al-Assad's regime. Children waved an oversized Syrian flag, an activist rallied the crowd with a microphone, and several protesters broke into small dance circles.
For a brief time, an end to the war felt almost imminent in this city residents now describe as part of "Free Syria."
Since late July, Al-Bab has been part of a small region of Syria that's managed to break free from the control of Mr. Assad and his Army. Situated about 25 miles northeast of Aleppo and the frontlines of the civil war, the city is deep inside opposition-controlled territory where there are no traces of the regime or the Army.
The crowd's moment of triumph, however, was short-lived.
Over the shouts and songs, demonstrators heard the sound of a Syrian jet approaching. As the crowd scattered, the jet circled, went into a dive, and released a bomb where the demonstration had been just moments ago. In the hour that followed, it strafed the city as members of the Free Syrian Army (FSA) fired back with heavy machines unlikely to down the plane.
When the jet finally disappeared into the cloud cover, it left behind seven people dead and dozens injured, according to FSA officials. Shopkeepers returned to the few stores that had yet to indefinitely close for business and the city reluctantly returned to what's left of normal life.
---