For Syrian rebels, a relentless game of cat-and-mouse
The Free Syrian Army attacks regime positions on Syria's southern border, but only holds them long enough to rush supplies and fighters in from Lebanon. Such tactics won't break a grim stalemate.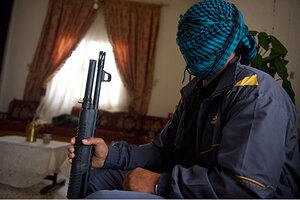 Ann Hermes/The Christian Science Monitor
North Bekaa Valley, Lebanon
In the flat, open Syrian-Lebanese border region, the strapped Syrian rebels have no choice but to let ground they capture fall back into enemy hands.
The Free Syrian Army (FSA) lacks the weaponry it needs to hold ground in the face of the regime forces' air strikes. Instead, it attacks Syrian Army positions along the southern border, takes them over just long enough to rush supplies and fighters in from Lebanon, and retreats before the regime planes arrive.
The rebels farther north have managed to take and hold a solid bloc between Aleppo and the Turkish border, which they have dubbed "Free Syria." (Read this story about the "uneasy normal" of life in rebel-held Syria). But it is a very different story between Homs, Syria's third-largest city, and the border with Lebanon, some sparsely-populated 20 miles away. (See a map here.)
The endless battle for turf underscores the challenges the rebels face simply holding ground as the conflict enters its 21st month. Short on supplies and heavy weaponry, and up against a regime believed to be getting help from Russia, Iran, and Hezbollah, the rebels have struggled to break a stalemate and are desperate for something, whether it is more weapons or new tactics, that could tip the scales in their favor.
---