As Gaza offensive intensifies, Israel enjoys unusual international support
European governments as well as the US are standing shoulder-to-shoulder with Israel over the conflict with Hamas in the Gaza Strip – drawing the ire of the Muslim world.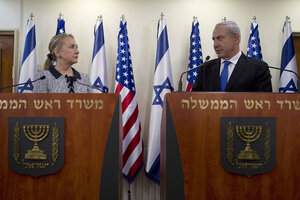 Baz Ratner/Reuters
UPDATE 12:40 p.m. A cease-fire is set to begin at 2 p.m. E.T ( 9 p.m. local time) between Israel and Hamas, according to US Secretary of State Hillary Clinton and Egypt's Foreign Minister Mohammed Kamel Amr. More details to come shortly.
As Israel begins the second week of its offensive against the Hamas-run Gaza Strip, it is enjoying unusual international support. Usually the target of criticism in Europe when it goes to war with Palestinians, Israel has seen the European Union stand shoulder-to-shoulder with the US this time in support of Israel, and in placing blame on Hamas.
Today's bombing of a bus in Tel Aviv is generating more support for Israel. French Foreign Minister Laurent Fabius condemned "in the strongest terms" the Tel Aviv attack for "targeting civilians at a time when everything must be done to reach a cease-fire" and vowed to meet with his Israeli, Egyptian, and American counterparts again today.
---