Syrian rebels forced to police their own as crime tarnishes reputation
With opposition Free Syrian Army fighters increasingly accused of looting and other criminal behavior, the rebels have launched Revolutionary Security to keep them in check.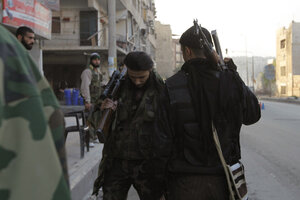 Zain Karam/REUTERS
When informants tipped off Abu Al Hiba to an Islamist Free Syrian Army unit's plan to rob an abandoned wire factory, he immediately dispatched some of his men to guard the factory and told the group that they were urgently needed on the front line. The group, which Mr. Hiba questioned was even a legitimate FSA unit, begrudgingly packed up and went to fight, leaving the factory unmolested.
As head of Revolutionary Security in his neighborhood of Aleppo, Hiba has been tasked with handling such problems and watching over the FSA to make sure its fighters don't commit crimes or violate human rights. The rebel forces' ranks have swelled as what started as a protest movement to remove President Bashar al-Assad became an all-out civil war. With that, the potential for rogue fighters to undermine the FSA's reputation with criminal activity has grown too.
"Revolutionary Security cannot go to a group and just tell them to give up their weapons, stop being rebels, and go home. We have to talk to their commanders," he says, explaining the difficulty of policing the opposition, which often calls for creative solutions.
Members of the FSA and its Syrian supporters now say that the group is no longer composed of those purely interested in overthrowing Assad. Criminal opportunists have entered its ranks or taken up its name, forcing the group to police its own.
"Revolutionary Security was founded two months ago and it's main mission is to observe the FSA and work with the civilians," says Capt. Abu Hamdu, chief of Revolutionary Security in Aleppo. "We're watching and observing the FSA fighters to make sure they don't make any mistakes dealing with the civilians."
Guarding its reputation
Attention has long focused on the human rights abuses of the Assad regime and its military, but opposition groups have also come under scrutiny. Most recently, Human Rights Watch released a report that found opposition groups had tortured detainees and committed summary executions and extrajudicial killings.
---