New nation, new love: Israel's first soldiers forged lasting bonds on the frontlines
Many of the fighters in Israel's most elite pre-independence fighting unit, the co-ed Palmach, fell in love and formed unions that have lasted to this day.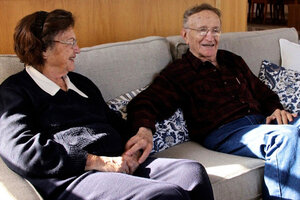 Evan Bryant
When Alisa Berman and Pinhas Ofer decided at age 17 to go out on their first date, they faced unusual hurdles: A barbed-wire fence and the armed soldiers guarding their base.
It was February 1948, and they were part of an elite fighting force known as the Palmach. Tensions were running high and there were frequent deadly skirmishes as both Jews and Arabs battled for the upper hand in what would soon become full-out war after Israel declared independence in May 1948.
Ms. Berman and Mr. Ofer were based at Mt. Canaan, a freezing outpost in the northern Galilee, where the female guards would take turns wearing a single oversized British Army coat on their two-hour shifts. Conditions were harsh, and even teenagers in love had to think about precautionary measures.
"We decided to go out of the base, to just walk together a bit outside, but we had to warn the guards," recalls Mr. Ofer. "So we told the guards – we are now going out, please don't shoot at us when we come back."
"We endangered ourselves, actually," he says, laughing now. "And we probably weren't the only ones."
In fact, roughly half of his acquaintances in the Palmach fell in love and, like he and Berman, ended up getting married. Some 65 years before US Secretary of Defense Leon Panetta opened the door for American women to fight in combat, teenage Jewish girls were ferrying weapons from Tel Aviv to Jerusalem in their bras – a crime that carried a five-year prison term. They also provided first aid and operated radios that provided crucial coordination between units at a time when even parents didn't know their own children's whereabouts for months at a time.
---