USA vs. Canada: the triumph of black-and-blue hockey
The USA vs. Canada hockey match for gold medal at the Vancouver Olympics is taking place because, in a tournament where many hockey prima donnas don't want to get their hands dirty, they did the yeoman work.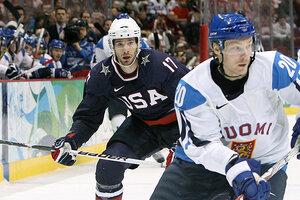 Newscom
Vancouver, British Columbia
Today's USA vs. Canada men's hockey game for the gold medal at the Vancouver Olympics is happening for one reason, says Brian Burke, the architect and general manager of team USA.
They both "play black-and-blue hockey," he said Saturday, referring to North America's traditionally more physical style.
In these Olympics, though, black-and-blue hockey has not meant just a desire to rattle the boards with body checks. It has meant a total commitment to team hockey.
That commitment is not always common among professional hockey players on their two-week Olympic break. Invariably, they are their nation's best. But often they are also hockey's divas – the goalscorers and creative geniuses who twirl into open ice with the grace of an autumn leaf or blast pucks on net like an artillery sergeant.
Yeoman they are not. The dirty work of penalty killing and blocking shots is for lesser players than they.
Yet every Olympics, and this one is no different, the hockey world is reminded of the indispensability of the men who seek their glory not in individual adulation or statistical flattery, but in their team's victories.
Team Canada: total commitment
---