Olympic medal count: Inspiring performances from abroad
There was plenty to talk about from US athletes this weekend at the London Games. But Great Britain and Jamaica were also strong, and China came back to overtake the Americans.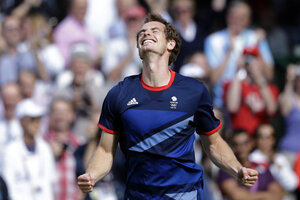 Victor R. Caivano/AP
There were many memorable moments from US athletes at the London Games this weekend.
Michael Phelps swam in his last Olympic event and earned a gold medal. The women's 4x100-meter relay swim team of Missy Franklin, Rebecca Soni, Dana Vollmer, and Allison Schmitt broke the world record and won the gold medal. And Serena Williams took the gold medal over Maria Sharapova.
Not to mention the excellent performances from the US fencing team in the men's team foil quarterfinals, gymnast McKayla Maroney on the vault, beach volleyball teams Misty May-Treanor and Kerri Walsh Jennings, and Jen Kessy and April Ross, as well as the US women's volleyball team.
But some of the most outstanding Olympic moments this weekend went to athletes from other countries.
Jamaica was undoubtedly dominant in track and field. Usain Bolt took his second Olympic gold in the men's 100-meter dash, in 9.63 seconds, and his running partner Yohan Blake took silver in the event in 9.80.
---