London 2012 basketball: Why LeBron James and Co. are a true 'Dream Team'
Team USA goes up against Argentina in today's London 2012 semifinal. It might be playing its best basketball since the Dream Team days of 1992, but the achievement is bigger than that.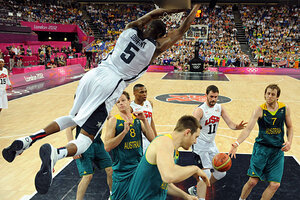 Mark Ralston/AP
Could the current US men's basketball team beat the 1992 "Dream Team"? LeBron James has said so, and the way he's playing these days, who are we to gainsay anything that comes out of his mouth?
But something else is more certain, and perhaps more important.
The 12 men of the United States Olympic basketball team are unquestionably a Dream Team – both for one man and for the nation he could not abide to see humbled and disrespected. Because eight years ago, when a B team filled with those few players who did not turn down the invitation to Athens finished third, an American basketball team like the one here in London was just that – a dream.
Jerry Colangelo, director of USA Basketball and architect of America's redemption on the international stage, appeared to have righted the ship four years ago in Beijing when the American team played with pride and respect, and won gold. But only here in London has the full scope of his success become apparent.
The original Dream Team proved to be a firework – spectacular in its initial brilliance but fading over time. With nothing to hold it together but the patriotic plea to players who were exhausted after NBA playoffs and made enough money to mint golden hubcaps of their own, the Dream Team experiment had virtually collapsed within 10 years.
---