London 2012 closing ceremony ends a 'happy and glorious' Olympics
The London 2012 closing ceremony had some fun moments, but far more memorable was the show the hosts put on during the past 17 days, allowing everyone to feel a bit British.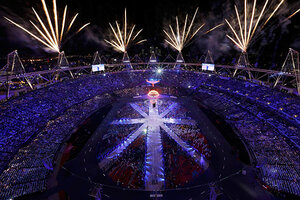 Pawel Kopczynski/REUTERS
Before the 2012 Olympics began, it was not immediately clear why London wanted the Summer Games at all.
London, after all, was not Beijing, Turin, or Salt Lake. It had nothing to prove to anyone and certainly didn't need to spend $14 billion for a party. All Britain – indeed all the British Commonwealth – had already had a rather large one to commemorate Queen Elizabeth II's 60 years on the throne. After a Diamond Jubilee, wouldn't an Olympic Games, even a golden one, be a little less precious?
But now we know better. We know that there are, in fact, not enough days in the year to celebrate being British.
On Sunday night here in London, the Olympic Games ended with closing ceremonies that reminded the world that, yes, a lot of popular music has come from Britain. It was fun in parts, like whenever Eric Idle was on stage or when Muse tore through "Survival," which has been the anthem of these Olympics, played before the start of every event with great effect. The Spice Girls were a hoot, too.
---