Iran debate: If Obama doesn't bluff, he's not a good poker player
(Read article summary)
President Obama's interview with The Atlantic can be seen as a preemptive strike to control the nuclear Iran narrative ahead of Israeli leader Benjamin Netanyahu's visit next week.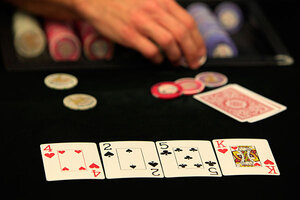 Wilfredo Lee/AP
As every poker player knows, the key to making a bluff work is to convince your opponent you're not bluffing (hat tip to Doug Saunders).
And that's why President Obama's statement that "I don't bluff" in regards to his willingness to use force to stop Iran from obtaining a nuclear weapon in an interview with The Atlantic's Jeffrey Goldberg released today is so apt. The truth value of the statement is in fact, unknowable.
If at some point the US intelligence establishment determines Iran is on the brink of obtaining a nuclear weapon (the current US consensus is there's no ongoing weapons-related nuclear work), and Obama is president, the strong implication of his comment is that the US would go to war. But if that day comes, there will be a host of other factors to consider, from domestic politics, to surging oil prices, to the potential strains on US alliances.
A cost-benefit calculation will be made. And yes, Obama or any other president will consider containment as an option, depending on if and when the day comes. Obama insisted to Goldberg that containment as a policy is off the table "because you're talking about the most volatile region in the world. It will not be tolerable to a number of states in that region for Iran to have a nuclear weapon and them not to have a nuclear weapon. Iran is known to sponsor terrorist organizations, so the threat of proliferation becomes that much more severe."
---