CIA aiding Syria rebels: Usually, that's just the beginning
(Read article summary)
The US is wading into ever murkier waters in Syria with unpredictable consequences.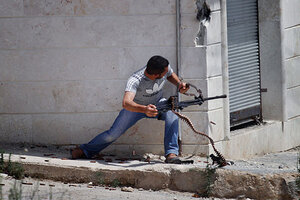 Khalil Hamra/AP/File
A Syrian government pilot defected to Jordan with his plane today, and Russia continued to complain that a British insurance company stood in the way of a shipment of armaments designed to help Syrian President Bashar al-Assad's regime to survive.
But the most interesting piece of news today is about weapons flowing to rebels inside the country.
The New York Times reports, citing anonymous sources, that CIA officers have been helping to pick and chose which Syrian opposition groups receive weapons supplied by Turkey, Saudi Arabia, and Qatar. The light weapons are being smuggled into Syria by Syria's Muslim Brotherhood and other groups, the Times reports. CIA "officers have been in southern Turkey for several weeks, in part to help keep weapons out of the hands of fighters allied with Al Qaeda or other terrorist groups, one senior American official said. The Obama administration has said it is not providing arms to the rebels," the Times writes.
---