Manaf Tlass: Being groomed as the Syrian Ahmed Chalabi?
(Read article summary)
Manaf Tlas, a defector from the Assad regime, has it all: money, foreign friends, and a secular outlook. Now he's being pushed forward by foreign groups as Syria's strongman in waiting.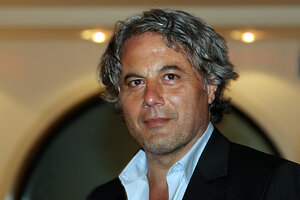 Burhan Ozbilici/AP
One of the problems of supporting revolutions in sharply divided societies, riven by sectarian tension and with much of the population furious after decades of abuse by their central government, is it's hard to put a strong stable government in place once the head has been cut off of the ancient regime.
One popular method for trying to deal with this problem (rarely successful) is to promote an exile who promises to be BFFs to take control of the nation. For the US, in the case of Iraq, that was Ahmed Chalabi, a man who turned out to have very little popularity in Iraq and ended up aligning his political fortunes with Iran and being blacklisted by the US intelligence establishment that once hung on his every word (oops).
Influential supporters of the Iraq war are already calling for round 2 in Syria.
And today, a lonely foreign policy establishment is turning its eyes to Manaf Tlass, a recent defector from the Syrian regime. Mr. Tlass was a brigadier general in Bashar al-Assad's republican guard, and yet a member of the country's Sunni Arab majority (his father had served Assad's father Hafez as minister of defense). His family has profited handsomely from sweetheart business deals under Assad, yet this week he's promised to help usher in a new democratic era. And even better, the former regime henchman has a penchant for red wine and Cuban cigars; no Muslim Brotherhood supporter here! (He also has ties to some far-right groups in France.)
---