End of Arab League observer mission to Syria opens door to renewed clashes
(Read article summary)
The Arab League's observer mission in Syria was suspended yesterday, and violence seems to be climbing once again as the United Nations attempts to take further action.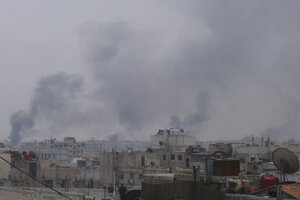 REUTERS
• A daily summary of global reports on security issues.
Just a day after the Arab League suspended its monitoring mission to Syria, the nation has erupted into what some observers have called the "fiercest violence" in months.
After two days of fighting that came within a couple miles of the heart of Damascus, government forces reportedly regained control of the city's restive eastern suburbs, but the violence and fighting has spread to other areas of the country.
"Activists say it is the fiercest violence they have witnessed in months," said Al Jazeera's Anita McNaught. "There are fires burning all over Syria, some say almost too many for the army to deploy all over the place."
The state-owned Syrian Arab News Agency reported that an "armed terrorist group" attacked a gas pipeline in Homs, one of the focal points of the violence since the uprising began in March. Syrian government officials often attribute violence to foreign terrorists.
The ongoing violence led to renewed calls for international action against the government of President Bashar al-Assad. Many observers say it is unlikely his regime can endure the current uprising, but if no international action is taken, it will be a long and violent battle before Assad's government is removed from power.
---