Syria's Assad: We are in a 'real state of war'
(Read article summary)
Syrian President Bashar al-Assad told his new government yesterday to spare no effort to win what he now calls a full-scale war.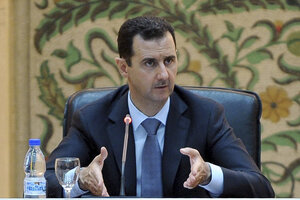 SANA/REUTERS
• A daily summary of global reports on security issues.
Syrian President Bashar al-Assad last night pronounced his country to be in a state of war and told a new government to spare no effort in achieving a victory.
"We live in a real state of war from all angles," Mr. Assad said in a speech broadcast on state television, according to Reuters. "When we are in a war, all policies and all sides and all sectors need to be directed at winning this war."
The comment, made during a speech to his newly appointed cabinet, is Assad's first pronouncement of war; he has previously dismissed Syria's conflict as an armed insurgency led by foreign militants. News organizations and international leaders, including some at the United Nations, began describing the conflict as a civil war weeks ago.
But the rebel forces now number between 10,000 and 15,000, according to US estimates, and they have stepped up their campaign, staging bolder, higher-impact attacks, CNN reports. They've also benefited from several high-level defections from the Syrian Army.
---