Syria's regime, rebel troops amass in Aleppo for 'mother of all battles'
(Read article summary)
Few expect Syrian rebels to be the victors in the battle for Aleppo, but just putting up a fight in this strategic city will send a strong message to the regime.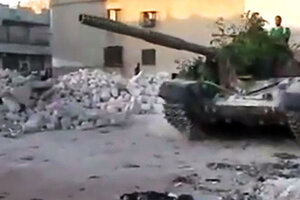 Ugarit News via AP video/AP
• A daily summary of global reports on security issues.
Thousands of rebel and regime troops have gathered in and around the northern Syrian city of Aleppo and many more are on their way, setting the stage for what one rebel commander said would be the "mother of all battles."
According to CNN, 18 of the 22 rebel military brigades are currently stationed in and around Aleppo and another 300 troops are on their way. Meanwhile, the Syrian Army has been steadily withdrawing troops and tanks from other towns and villages and dispatching them to Aleppo – a city that, until last week, some expected to remain out of the fray of the Syrian civil war. Free Syrian Army representative Abu Omar al-Halabi told Deutsche Presse-Agentur that since yesterday, 3,000 rebel fighters have joined the 2,500 already in and around Aleppo.
But, according to CNN, 48 of yesterday's 200 deaths across the country happened in this city better known for being a UNESCO World Heritage site. This was the first time Aleppo led the country in death toll, marking it as this week's ground zero.
---