Syrian troops recapture rebel-held town, cutting off refugees
(Read article summary)
In a blow to rebels, Syrian troops recaptured a border town used by refugees to cross into Jordan, according to activists.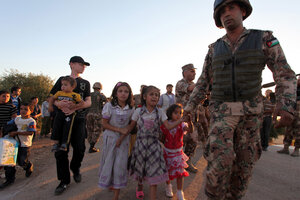 Mohammad Hannon/AP
• A daily summary of global reports on security issues.
Syrian troops recaptured a rebel-held town along the Jordanian border today, cutting off a major crossing for Syrian refugees fleeing to Jordan and putting further stress on the humanitarian crisis resulting from the protracted civil war.
According to the Syrian Observatory for Human Rights, a British-based organization, and local activist Mohammad Abu Houran, 20 Syrian tanks and scores of soldiers attacked Tel Chehab this morning.
Nearly 2,000 refugees were in Tel Chehab when the Syrian Army attacked, Mr. Houran told The Associated Press. The territorial loss is a setback for Syrian rebels who, according to AP, claim to control more than half of the country but are facing increasing challenges, such as weapon shortages.
"Right now we have more people who want to fight than we have weapons," Ahmad Ibrahim, a senior member of the Free Syrian Army in the town of Akhtrin, told The Christian Science Monitor's reporter Tom A. Peter this week. (See his coverage on the rebels' surplus of volunteers but shortage of weapons here.)
But the rebels aren't the only ones losing ground: The Army's recapturing of a refugee thoroughfare exacerbates an already difficult reality for Syrian refugees as well. The International Committee of the Red Cross (ICRC), in coordination with the Syrian Arab Red Crescent, has supplied food and water for an estimated 180,000 internally displaced people in Syria since mid-July. Aid agencies have been trying to boost their relief operations, Reuters reports.
---