Syrian rebels launch 'unprecedented' battle for control of Aleppo
(Read article summary)
The Free Syrian Army launched the offensive yesterday afternoon, opening up multiple fronts against the government throughout Aleppo in a bid to end a two-month stalemate.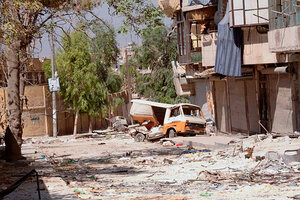 George Ourfalian/Reuters
• A daily summary of global reports on security issues.
Syrian rebel fighters have launched what they described as a "decisive" battle in Aleppo, bringing "unprecedented" clashes to the streets of the city as they try to wrest certain neighborhoods from government control.
Their goal is not to liberate the whole city, but to regain control over parts of the city the Free Syrian Army has lost, a local FSA commander told the Guardian. The offensive was launched at 4 p.m. yesterday, he said, speaking by phone from the city.
We wanted to [surprise] the Syrian army which had started to creep forward towards the southern neighbourhoods. The Tawheed brigade was enticing the Syrian army forward to face all the fighting brigades in the city.

We have been reconsidering this a battle for a week. The plan to launch the battle today was top secret, and now the mosques in Aleppo are praying for the FSA.

There are 6,000 fighters of the Tawheed brigade taking part in the battle now, in addition to a few other brigades like al-Fatah and Ahfad al-Fatiheen for the Turkmen. We have prepared good ammunition for the battle, we have confiscated a lot of weapons from Masaken Hananou belonging to the Syrian army. We have Russian weapons used by the regime and we will use them against the Syrian army.
---