Pakistan: suicide bomb attacks in Lahore cap particularly grim week
(Read article summary)
Twin suicide bomb attacks killed 45 in Lahore on Friday, the fifth attack this week in Pakistan, as militants show ability to strike despite recent wave of arrests and killings of top Taliban and Al Qaeda leaders.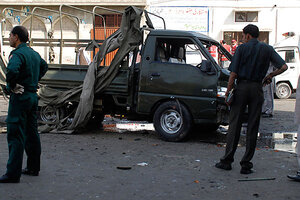 Reuters
• A daily summary of global reports on security issues.
Suicide blasts rocked Pakistan's cultural capital of Lahore for the second time this week, killing at least 45 people Friday and rebuffing notions that recent arrests and killings of Taliban leaders have weakened the militants' capacity to strike deep inside the country.
Friday's twin bombs, apparently timed to hit large crowds on their way to afternoon prayers, may also have targeted military and security offices in the area. Military officials are said to be among the 95 wounded, reports Pakistan's Dawn. ABC News reports that one of the bombers detonated his explosive next to Army vehicles parked near a bazaar. Reuters reports at least 45 killed in the bloodiest attack this year.
No group has claimed responsibility.
---