Thailand protesters want government dissolved
(Read article summary)
Tens of thousands of Thailand protesters flooded the streets of Bangkok on Sunday wearing red shirts to support former Prime Minister Thaksin Shinawatra.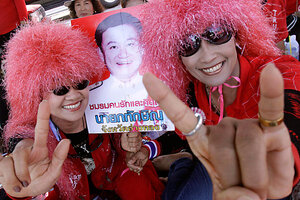 Toon Akkanibut/AP
• A daily summary of global reports on security issues.
Tens of thousands of Thailand protesters on Sunday demanded the dissolution of the Thai government within 24 hours. If that does not happen, the masses of "red shirt" protesters gathered in the streets of Bangkok say they will launch more massive street demonstrations against the current regime.
The Bangkok Post reports that the leadership of the United Front for Democracy against Dictatorship (UDD), whose members wear red in support of exiled former Prime Minister Thaksin Shinawatra, made their formal demand for dissolution before the gathering.
"We're asking the government to relinquish power and return it to the people," he said.

[UDD leader Veera Musikhapong] threatened that the group would spread their protests across the capital in coming days if their demands are not met.

He said the present government was in fact a dictatorship under another name and the red-shirts did not believe it could be in the people's best interests.

"However, the demonstrators will not mobilise to other areas in the next 24 hours," he said in the afternoon.
---