Thailand protests: 'Red shirt' protesters rule out talks with government
(Read article summary)
Thai 'red shirt' protesters ruled out negotiations with the government Sunday, one day after clashes during the Thailand protests killed at least 21 people in the country's deadliest political violence since 1992.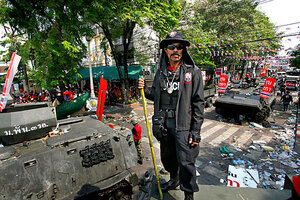 Vincent Yu/AP
"Red Shirt" protesters in Bangkok refused to back down Sunday after at least 20 people died in clashes Saturday when security forces tried to quell the Thailand protests.
The government's failure to disperse the protesters from their encampments may have hardened the red shirts' position and deepened the crisis that is now the deadliest political violence in Thailand since 1992.
The Associated Press reports that 20 people were killed in intense street clashes Saturday, including five soldiers and 16 civilians, while at least 834 people were injured.
After the clashes, in which troops shot rubber bullets and used tear gas against protesters who threw homemade bombs and beat police with sticks, the security forces retreated, and asked the protesters to do the same, in an informal truce.
The leader of the protest movement, called Red Shirts for their clothing, said they would not talk with the government after Saturday's deaths.
Jatuporn Prompan, a leader of the Red Shirt movement … said Prime Minister Abhisit Vejjajiva's hands were "bloodied."

"There is no more negotiation. Red Shirts will never negotiate with murderers," Jatuporn announced from a makeshift stage. "Although the road is rough and full of obstacles, it's our duty to honor the dead by bringing democracy to this country."
---